Showcasing Scotland's finest Events Talent
Following a fantastic evening at the Assembly Rooms on June 13th 2019 to
recognise Scotland's finest events talent and excellence in service, product
and delivery. You will be pleased to hear that we are already planning our
2020 celebrations.
SPARKLE
Next years' 2020 E Awards will be bigger and better than before and will
return to a more formal dinner or luncheon format. The 2020 location,
venue date and timings will be announced here on the website, and the
EventsBase Newsletter – so watch this space.


CELEBRATE
Please support us as we endeavour to buck the trend and keep the E Awards
free to enter and entry and table prices as low and inclusive as possible. It
is important for the industry that we have an Awards that is a prestigious
marque of recognition and reward and open to all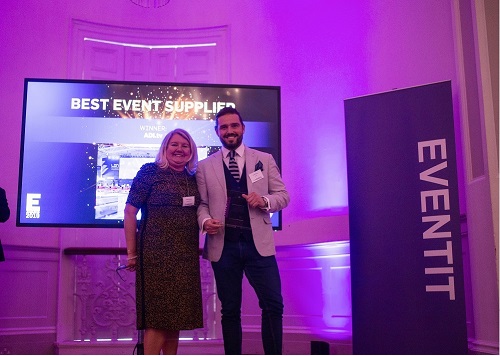 Judging process
Our 2020 Judging process:
Since the inception of the E Awards two things have been of paramount
importance to us, that they are free to enter making it a fair playing field to
everyone within the industry and that we ensure there is a robust judging
process.


Our Board of Judges represent experts from the events and festivals
industry who take an enormous amount of time to appraise and scrutinise
all the nominations against the individual category criteria.


If you are nominated or win and E Award be very proud as these are
Awards that mean a lot to the Judges and Organisers and are not gifted
lightly.



Awards categories
As in similar yours there are no limit to the number of entries you can
make or categories you can enter. We are keeping the same categories as
last year and have had a number of suggestions that we may introduce
next year such as Best Awards Ceremony and also Best Community Event.
If you have any ideas you wold like to share please contact
Judith@eventiit.org.uk or call 0131 357 4471


Best In-house Agency; Event Planner or Events Team
Rising Scottish Event or Festival Star
Best Third Sector Event - includes Fundraising Events
Best Association Event
Best Corporate Event
Best Public Sector Event
Best Festival or Outdoor Event - Indoor, Cultural, Music, Sporting or Hospitality
Best Scottish Venue & Events Team
Best Event Supplier - non-Venue
Best use of Event Technology
Best Student led Event
Sponsorship
Sponsorship at the E Awards provides a unique opportunity to achieve
outstanding exposure to a captive audience of corporate, association and
agency decision makers. It is also an opportunity for superb networking
and entertaining clients.


Sponsors enjoy amazing promotional activity reaching over 5,000 event
industry professionals in Scotland via our weekly email and great brand
awareness of EventsBase magazine.


If you are interested in sponsoring the E Awards or any award category,
please contact judith@eventit-org-uk